Books for Breakfast – Fall '23
view options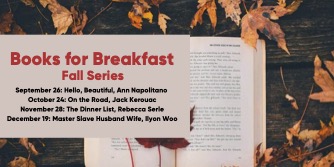 Hungry for a good read and lively discussion? Enjoy a morning feast of ideas, exciting conversation, and thought-provoking analysis. Got the chutzpah to chat? This is where it's at!


September 26, Hello, Beautiful Ann Napolitano
October 24, On The Road, Jack Kerouac
November 28, The Dinner List, Rebecca Serle
December 19, Master, Slave, Husband, Wife Ilyan Woo




Please email Lizabeth.Conners@atlantajcc.org for more information and the Zoom link.

date
time
location
fee
age
code

date

Books for Breakfast

Tuesdays, 09.26.2023 - 12.19.2023 (4 sessions)

time

10:30 am - 11:30 am




location

MJCCA Zaban Park

fee

Free and open to the community

age

50 - 120 Years

code

#52332

No Registration Required

Schedule
Tuesday, September 26, 10:30 am - 11:30 am
Tuesday, October 24, 10:30 am - 11:30 am
Tuesday, November 28, 10:30 am - 11:30 am
Tuesday, December 19, 10:30 am - 11:30 am